This Friday we are attending a Blues Reception, which is apparently a cocktail hour type thing. According to Today's Military Wife -- my guide to all things a military wife needs to know -- receptions that "start after 6 PM are always formal." And by "formal," the author means that "long gown or tea-length dress, super-dressy cocktail suit, a luxury coat" should be worn. I did not bring anything even vaguely resembling that description with me, um, not that I actually own anything like and just happened to leave it back in Middleville. So that means shopping.

But of course, I dread shopping for special occasion outfits. First of all, the sizes are usually all messed up. Two dresses of similar design but separated by more than one size can both fit me. Then there is the cut. I need a dress that covers my knees completely. Shorter lengths just make me look shorter and fatter, which is obviously unacceptable. The neckline must be low so I can best asset: My knockers. Obscenely low or too revealing is also unacceptable. I can't show up to a military event worrying about whether my left nipple is going to slip out.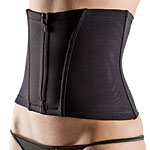 A few days ago, I was in the social room -- AKA the laundry room -- chatting up with some of the wives. We are discussing the upcoming reception and what we are wearing. Having nothing dressier than khakis, I ask about where people are shopping. One newbie's wife mentions that JC Penney is having a sale. I silently groan. JC Penney? When was the last time I stepped foot in a Penney's and actually bought something? Before I met Jack a dozen years ago, perhaps? Then I start thinking, am I really that much of a snob? And as a newly unemployed person, can I afford to have such an attitude? I don't think so.

Sunday night, I got online to see what Penney's had for little black dresses. Not bad. Looks like they have a wide range of styles that will fit my needs, including a variety of sizes. But I am nervous about ordering something online when I can't tell what the material is like, what the fit will be, and how it will look on me. And I can't afford to buy several dresses then return all but one. There is a Penney's here in C-ville at the small mall. I guess I could go a try on dresses.

Which brings me to yesterday. I rush to get laundry done in the morning so I have plenty of time to devote to the dress hunt. As soon as Jack leaves after lunch, I finish folding the laundry -- yeah, I folded AND put it away, amazing, I know -- and I grab my Spanx and head out the door to brave of the the back to school crows at the mall. Just better to get it over with.

Once at Penney's I spot three or so racks with nothing but little black dresses hanging on them. Perfect. Now what are the sizes they go up to? Hmmm. Looks like about one to two sizes smaller than I think will fit. But I grab all the v-neck dresses in the largest sizes they have -- eight of them -- and prepare myself that they will all be too small. After squeezing and jumping and twisting my way into my Spanx -- I think I hurt my back -- I wiggle my way into the dresses, which then get sorted into the definitely maybe and the definitely no. So far they all fit but the dresses have revealed a tummy situation. Hmmm. Maybe it was all those nights of eating Qdoba Chips and Queso for dinner right before Jack got home from Iraq. We'll need to do something about that.


The fitting rooms are just outside the lingerie department. Surely they have some sort of medieval torture device that will make my tummy smaller. I grab a device cleverly called a "waistnipper" and sprain my hand trying to get the 14 eyes hooked. Then wiggle back into the dress in the number one spot. This dress, unlike the others, is a little fancier than a typical little black dress. This one has a taffeta skirt with an underlayer of tulle, making a little puffy and a great eye diversion from the tummy situation. With the waistnipper and the Spanx and the puffy skirt, I think it will work.

I resolve the lack of appropriate bra with a quick trip to Lane Bryant. And I don't have to worry about jewelry. I brought my entire old-fashioned-sewing-box-turned-jewelry box with me. I'll find something.

So in less than two hours, I found a perfect dress. I can't wait for Friday. Now I just need to work on my tan.